Restaurant Review - Hello Please
Vietnam's hawker stalls and south Brisbane cravings come together in a shipping container on Fish Lane at Hello Please. Hello Please offers modern Vietnamese style food. It is set in an open air space with a cosy sitting arrangement. Hello Please is perfect for having a quick, fresh, and affordable meal.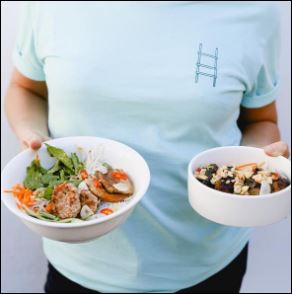 The menu is simple. It includes street-style Vietnamese dishes like chicken pho, dumplings, pork belly bao, vermicelli noodle, and rice paper rolls. Hello Please is a creation of Dan Ward and Maris Cook. You can feel their youthful energy in almost everything, be it speedy service, fresh music and a casual beer garden environment.
When it comes to Vietnamese food, dumplings and spring rolls are the first things to come to mind. Start with Beef dumplings. Dumplings are well-made and come with black vinegar dressing. It is hard to miss the heat of ginger in the dumplings. Springrolls at Hello Please are nothing like any other you have tried before. It is made with Vietnamese fried rice paper wrappers to take it to the next level. Stuffing of these rice paper rolls changes daily. The crispy texture works perfectly with the delicious pork and coriander filling. It comes with spicy Sriracha mayonnaise. Peking duck or beef with wasabi mayo rolls are also equally tasty.
Duck salad packs a flavourful punch. It comes came fresh Thai basil, veggies, noodles and sesame. Beautiful presentation of Bun Cha is appealing to both eyes and tastebuds. It is a bowl of pork belly, grilled pork meatballs, vermicelli, pickled veggies. You want to play safe, Vietnamese chicken curry will not disappoint. Don't miss out on their classic chicken pho. More dishes you can try are chicken ribs and coconut chicken salad. Don't forget to order a bowl of crispy prawn crackers. It is a perfect accompaniment to everything, and it is impossible to not go for seconds.
Hello Please offers weekly specials and all-out banquet. Food can be paired with Vietnamese beer, wine and Asian inspired cocktails. The beer list is fascinating which includes quirky names like Moon Dog Lager, Mountain Goat and Bintang. Service is speedy at Lunchtime. You can get seats quickly at Dinner for two people. For more than 2 people you can book from their website. Best way to travel there in a group is to hire a minibus from hireabus.com. Hello Please is closed on Mondays.