Places to visit near Brisbane airport
If you are visiting Brisbane or having a stopover at Brisbane airport you will not get bored. Brisbane Airport is surrounded by so many amazing places. While there are some regular ways of spending layover time like chilling at the lounge, duty-free shopping, eating, sleeping, etc. You might skip it as there are some fun things you can do near Brisbane airport.
Eat Street Markets

This place is like a wonderland for food lovers. It is 10.2 km from Brisbane airport. Keep in mind that it is only open on weekends. Its location on the Northshore serves you with the best river views with delicious food. Savour the food from around the globe. Along with this, they have an interesting line up of musical events and live entertainments.
Slideways Go Karting
Slideways is Australia's best indoor go kart hire. It is located only 8 km from the Brisbane airport. They have 425 m long europian style indoor kart track. This track is multilevel and includes bridges, tunnel, and esses to rush the adrenaline. Their Sodi europian racing karts come with hyaluronic breaks and racing slicks. It is open 7 days a week.
Circus Arts
Circus Arts offers a very unique experience. It is an outdoor flying trapeze where you can undergo professional training to perform various tricks. Flying trapeze is an excellent form of workout. It does not matter how familiar you are with this art form they offer training for beginner, intermediate and advanced level. There is no age limit for fun so here you will find classes for the age groups. If you are a local it is a great place to arrange a party, corporate event or team building activities. It is located in the golf centre, Brisbane about 5 km from Brisbane airport.
New Farm Riverwalk
New farm riverwalk connects the New Farm to the Central Business District of Brisbane. It is the highlight of the Brisbane river. They have two separate tracks for pedestrians and cyclists. You can take a stroll on it while on the ferry or simply go there and relax with friends. Enjoy the beautiful view of the river and the cool breeze.
Flight Experience Brisbane
If you fancy flying an aircraft Flight Experience will help you check it off your list. They take you through this experience in a simulator based on boing 737NG. It replicates the environment of flying a real jet airliner. A 10-minute drive from the airport.
Cruise Along The Brisbane River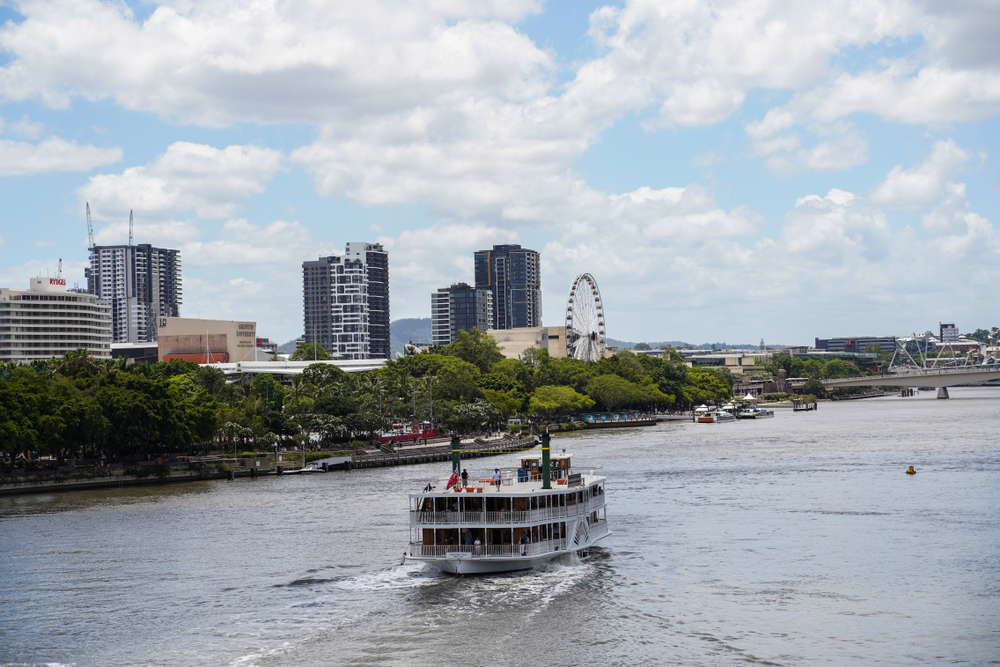 Brisbane River is the longest river of southeast Queensland. Brisbane city council offers public transport in form of CityHoppers, city cats and ferries. So you can just ditch the traffic and enjoy the views and activities along the bank. There are 25 terminals. CityHopper is a free inner city ferry service. So all you have to do is hop and hop off to see some of the major attractions such as south bank and kangaroo point. Brisbane City Council offers a fleet of 21 Citycats. It is worth noticing that all the city cats are named individually with thoughtful and meaningful names.


Day trips from Brisbane
Gold Coast
Gold Coast is an absolute must visit when in Brisbane. It is indeed a surfer paradise. One day is maybe not enough to enjoy everything this place has to offer. Apart from the famous surfer's paradise beach, there is also a Main Beach and Broadbeach. There is a number of theme parks. Here you will discover tons of water and land activities, heritage and historical sites, restaurants, bars and breweries.
Lamington National Park
Lamington National Park is nothing like any other national park you may visit. What sets them apart is their 9 suspension bridges. With these Tree Top Walks, you can see the birdlife. It is a great place for bushwalking with spectacular sights of waterfalls and wildlife.
Bribie Island
Bribie Island is the smallest island of Moreton Bay. The reason it is favourite for family outings and even retirement is that despite being remote it provides that community feel. Here you can enjoy various sporting activities such as skydiving, kayaking, surfing, camping. Relax on Barbie's sandy calm beaches or explore the history with seaside museum and community art centre.
Tangalooma
Tangalooma Island will give you the experience of a lifetime. How often you can see whales swimming right next to you. Tangalooma Island Resort Whalewatching Cruize depart from holt street, Pinkenba, Brisbane. Please note that the whale watching cruizes are operated seasonally that is June to October. At Tangalooma island resort you can also book their other attractions. 
Montville and Maleny
Mountville and Maleny are the highlights of Sunshine Coast Hinterland. They make the perfect escape from city life. In Mountville, you can spoil yourself with shopping. It is an ideal place to shop for Antique Jewellery, original leather products, Cuckoo clocks, and Illume creations. Take a true taste of country life with Maleny Dairies farm and milk factory tours. 
Glasshouse Mountains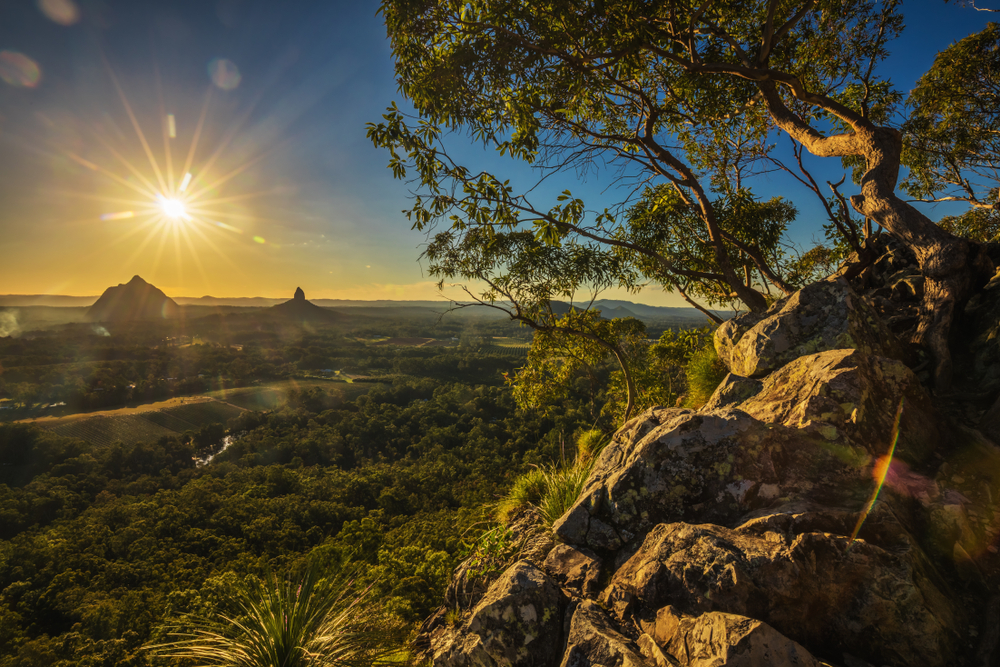 Glasshouse mountains are found in the bush of Queensland's Sunshine Coast. They are about an hour drive from Brisbane. These mountains have 11 individual peaks. Each peak represents 26 years old volcano. In Glasshouse Mountains is home to 6 small townships. Beerwah is the largest town here. All the major attractions like Australian Zoo and Glasshouse Mountain Lookout Circuit. You can get adventures with bushwalking, abseiling down the mountains and hiking. 




Australian Zoo
Australian Zoo is situated in Sunshine Coast. It is founded by Crocodile hunter Steve Irwin. It is more than a zoo. It is the most interactive conservation destination. Their educational tours are tailored for different age groups. It is home to birds, mammals and reptiles not only from Australia but from around the world.