5 Best places to hold your Christmas party in Sydney
When you think about organising a party, a great venue plays a vital role in making it a success. We all know how it can take ages zeroing down the venue. And the plethora of places that Sydney have doesn't make it any easier. Well, to save yourself some trouble, we have a list of 5 best places to hold your upcoming Christmas party.
The Cliff Dive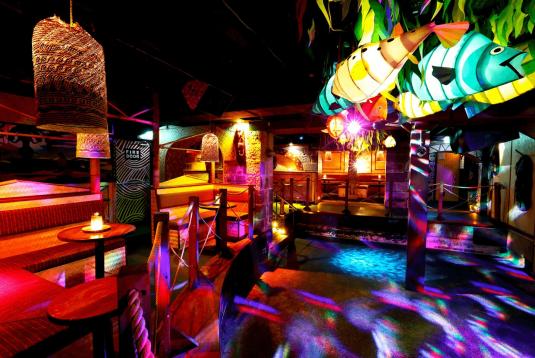 No matter what your group size is, The Cliff Dive is an ideal place for hosting a Christmas party. It lies in the Darlinghurst in new south wales, Sydney. The Cliff Dive has an ideally central location. You can book bus hire in Sydney to make sure all your guests reach there comfortably.
Tropical golden doors promise a vibrant experience. Tropical neon stairs will lead you to an exotic tiki wonderland. The Cliff Dive is designed in such a way that you can book it for the function of any style and size. They provide you with a variety of high-class areas which you can book depending on your requirement.
'The Governor's Lounge' is an exclusive private room. It comes with a personal bartender and waitress. This Lounge can accommodate 50 guests and seats 25 people. It is available to book only on Friday and Saturday nights from 5 pm to 3.30 am. If you are having a small Christmas party or gathering of a group of friends, it is most beneficial to book a Booth or two. The Cliff Dive offers exclusive Booths that you can hire for smaller parties. It is ideal for 6-25 guests. It is available for booking on Friday and Saturday nights. Bottle service menu and bar tab are available for both the areas. You can also book the entire venue. The whole place can accommodate 300 guests capacity, 120 seated. You can hire it from 12 pm to 3.30 am. When you book the whole venue, it comes with full staff and security. Your guests can access both the bars.
The event coordinators at The Cliff Dive are open to your ideas for the party. You can also arrange customized and personalised entertainment options. Drinks package include wine, beer, delicious cocktails, soft drinks, ciders, house spirits, fresh juice and much more. They have live music and DJ options. Food options contain canapes, sliders, small bites, pizza, platters and desserts.
Neon lights, colourful decor, fun tropical theme are sure to make your party cheerful and hard to forget.
Buckley's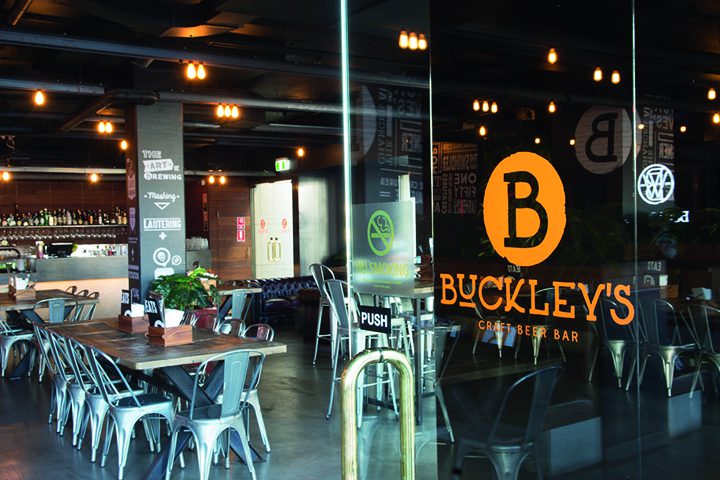 Buckley's is the best Waterside function venue in Sydney. It is situated right by Sydney's Circular Quay. This classic location offers a beautiful view of Sydney Harbour and the iconic Sydney Harbour Bridge. It is Walking distance from CBD and Sydney Opera House. Here you can host your Christmas party both outdoor and indoor. At Buckley's, you will get outstanding food, friendly service and beverage options. Great food and stunning view, What's not to like?
Buckley's have three semi-private areas to choose from. It can accommodate 10 to 480 guests. You can hire any area for sit-down, stand-up, indoor or outdoor event. Book the areas individually or as a combination, the choice is yours. You can also book the entire venue.
The foreshore is a stunning open air space offering a spectacular view of harbour and bridge. 125 cocktail and 100 seated arrangments can be done. The courtyard is also an outdoor area. It is accessible from the venue and waterfront walkway. It is more suitable for a small party of up to 80 people and 125 people if you are having an only cocktail party. Craft Beer Bar is a large area. Its open plan lets you enjoy views of the city skyline. They can arrange a small space for private functions. For large parties book the entire venue. The whole place has a capacity of 450 people for a cocktail style party and seats for 330 people. If you hire the entire venue, you can convert the place as your liking.
Buckley's offer a variety of packages when it comes to food. Choices include Banquet, 2 and 3-course meals, platters and pizza stations. Vegan, veg, gluten and dairy-free variants are also available.
The Blue Room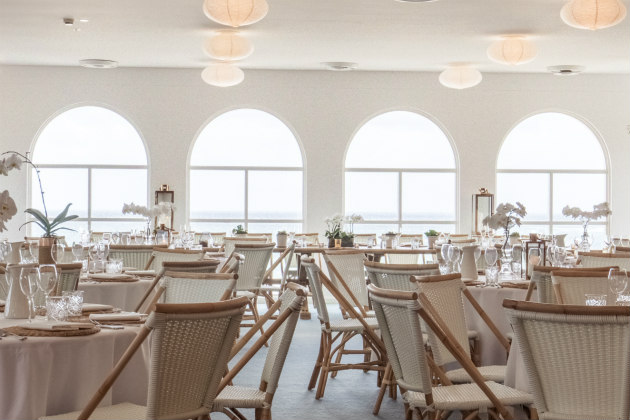 The Blue Room is situated on the upper level of Bondi Surf Bathers Life Saving Club. It is the most sensational venue on the iconic Bondi Beach to hold your Christmas party this year. The location promises splendid ocean views. The Blue Room is recently renovated keeping on mind the coastal design. Its atmosphere is fashionable yet relaxed. They have outstanding hospitality and catering services to offer and provides you with a memorable experience.
The Blue Room is available for hire 7 days a week. There are three different areas both indoor and outdoor. There is a Main Dining Room which seats 10-100 people. Then there is a Balcony with a capacity of 50 people. Outdoor Patio that can accommodate 10 - 150 guests. They cater for breakfast, lunch and dinner functions accommodating 20-100 guests. If you are planning to host a cocktail style Christmas party, The Blue Room is available for up to 150 guests. It is convenient to get to The Blue Room by bus, car or train.
The Blue Room Bondi is the ideal Eastern Suburbs location for your Christmas party. It delivers flawless food, wines and service, and provides your guests with a remarkable experience.
Sydney Harbour Cruise

Want a unique and special location for hosting your Christmas party this year? Hire a boat and cruise the Sydney Harbour for a truly unique experience. There are plenty of private companies from which you can rent a boat. That includes Sydney Harbour Exclusive, Harbourside Cruises, Sydney Harbour Escapes and Sydney Princess Cruises.
If you are having a small party, you can book tables on a shared cruise. For large parties, book a private boat charter. There are Christmas buffet menus and cocktail party menus to choose from. All these with a spectacular view and great live music. They have special packages for Lunch and Dinner Christmas party cruises. Depending on your budget and group size, you can choose luxurious private and shared boats. Some of the companies also provide various entertainment options onboard including karaoke, comedy shows, and much more.
Treat your guests with the best views of Sydney Harbour, iconic Sydney Harbour Bridge, Sydney Opera House and City Skyline. Make sure to book well in advance to get a vessel of your preferences.
Beer Deluxe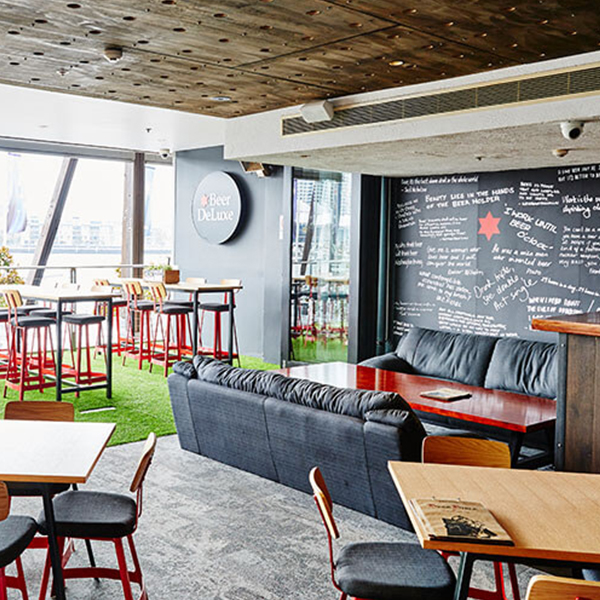 Beer Deluxe is an ultimate venue for a laidback Christmas party. It is a leading brewhouse in New South Whales offering over 150 international craft beer. The place has two levels. The upper level is called Upstairs. On this level, they have both indoor and outdoor arrangements. There is also an exclusive bar. It is perfect for large parties. Upstairs can accommodate 60 guests seated and 160 standing. The ground level is called the Courtyard. Lime plants surround the beautiful beer garden. The courtyard can accommodate 60 guests seated and 90 guests for cocktails. The courtyard is the best for a small gathering.
Book the whole venue for a larger party. The whole venue is suitable for 160 people seated and 310 people standing. They offer various function packages that you can modify according to your budget and requirements. There is a cocktail menu bearing the cold, hot and sweet canapes, small dishes and share platters. Pick the set menu or book the stand-up and sit-down beer and food tasting experience. There is an interesting Beverage package option to choose from.