Restaurant Review - Gerard's Bistro
Gerard's Bistro is a modern Middle Eastern restaurant in Fortitude Valley. It promises a progressive dining experience. Restaurant's decor is as fresh as its food. Rugged setting and relaxing surrounding are perfect for a night out.
Chef Ben Williamson creates the magic in the kitchen that makes the diners come over and over again. Flavours of Maghreb and Middle East inspires the menu. Gerard's Bistro's menu offers a modern take on classic dishes using local ingredients with traditional techniques. All the plates are full of colours and packed with bold flavours. The menu is A La Carte and offers a banquet-style dining experience. They also cater to special dietary and allergy requirements.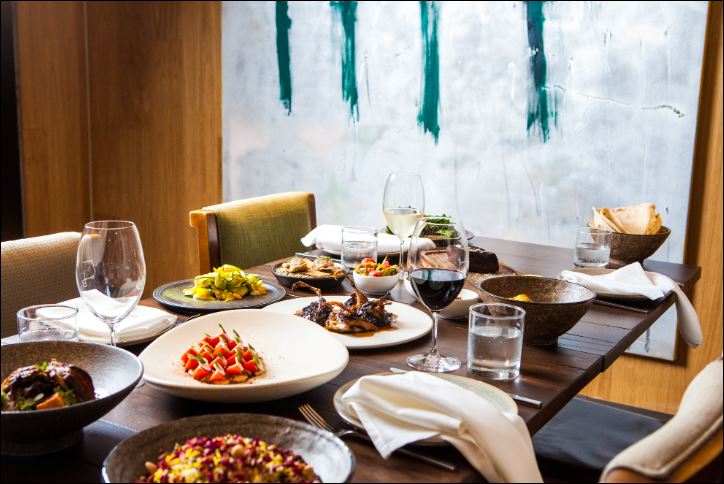 The sharing menu lists items clearly from small to large. Service staff is friendly and have a good knowledge of the menu. Each dish is as fascinating as the other. They all perfectly compliments the bold flavours of each other. Start with a crunchy burghul cracker topped with Paroo kangaroo, scampi caviar, coal-infused hummus and black fungus. Then go for the simple yet rich caramelised blood cake paired with pickled daikon, cured egg yolk and shaved bottarga. Don't miss the house bread with smoked cultured butter.
Coal-grilled octopus with thinly sliced green strawberries, chilli, smoked butter and almonds is a must-try. Charred lamb collar with eggplant, black cardamom puree, smoked dates and black cabbage, works in perfect harmony so do the Poached Hapuka. The Suckling Pig comes with raisins, barberries, macadamia, and fermented pumpkin, burnt butter and mint balance the texture. The highlight of the menu is Salsichi Bosque. It is Catalan style salumi made with wild mushroom, fino sherry and black pepper.
The dessert list is short yet creative. The Mahalia is a standout dessert. Other desserts such as Strawberry sorbet, parsley, sumac, and black cardamom ice cream, mandarin curd, black sesame are also worth trying. The drink menu is extensive, including cocktails, beers, aperitifs and a wine list to die for. The wine list consists of the best regional and international wine. They also have experimental wines from new winemakers with new styles.
Gerard's Bistro is open for Lunch and Dinner from Wednesday to Sunday. On Monday and Tuesday, it is open only for Dinner. It is only 10 minutes drive from Brisbane CBD. The menu is designed to be shared with friends and family. Taking public transport is more time-consuming. Best way to travel there in a group is to hire a minibus from hireabus.com. The restaurant hosts regular events and joint dinners. You make online reservation on their official website.
They also have a Private Dining Room that can seat up to 36 people for a lunch or dinner and 50 people for a cocktail party. They provide private, corporate and wedding catering services.