Restaurant Review - Detour
Detour is a modern contemporary restaurant. An old industrial building within the antique precinct of Logan Road in Brisbane's Woolloongabba houses Detour. The setting of this 140 seater restaurant from Damon Amos is comfortable and welcoming. Damon Amos' vision is that everyone should be able to enjoy the food, regardless of their dietary preferences.
Detour is open from Monday to Thursday from 5.00 pm to 10.00 pm and on Friday and Saturday from 12.00 pm to 12.00 am. It is Decorative details such as recycled paper menus, very decent crockery, glassware and ­attractive copper cutlery are noticeable.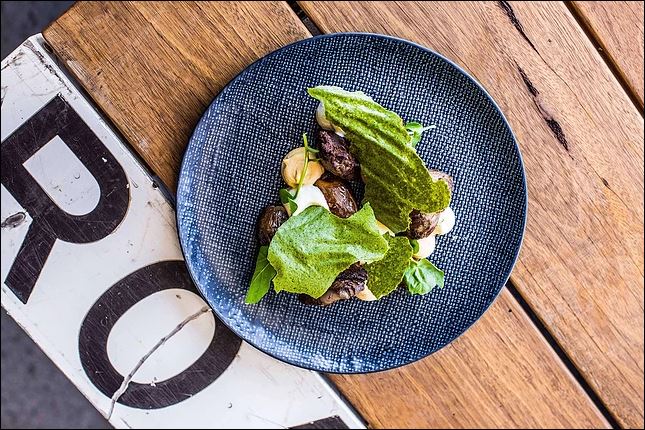 The menu at Detour has split down the middle between omnivore and herbivore options. Herbivore menu is entirely plant-based. Almost all of the dishes are gluten-free, and they also feature local and unique Australian ingredients such as emu and edible black ants, you won't find anywhere else.
In omnivore selection, Kentucky Fried Duck (K.F.D) is the signature dish. Crunchy and spicy coating fried duck comes in a paper bag with a side of jalapeno cornbread and a pot of sour cream. Charcoal Chicken with jalapeno cornbread and tile cherry pepper and heavenly Pork Belly with star anise, bean sprouts and pancakes are highly recommended. For those wanting to try something adventurous, Emu Tartare will not disappoint. In this dish, emu flank comes with burnt shallot, chilli and pasteurized egg yolk.
Other dishes to try are Octopus with peppers, miso butter and Tsuyu, Tiger Prawns with yuzu, mizuna and caviar, Gunpowder Salmon with Green Curry and Black Ants. Salmon fillet comes scattered with citric black ants and seasoned with edible gunpowder - the charcoal mix creates a deep black edge to a perfect shell-pink fillet.
In the herbivore menu, the savoury richness of coal-roasted, miso-marinated broccoli with ­spinach, quinoa and seaweed steals the show. Another star dish is "fossilised" roast carrots, with their crispy, dehydrated skins with almond cream. Cauliflower with cashew curry and lentils is rich, creamy and wholesome, served with smoked pumpkin with maple, mustard and pepitas.
In the corner, there is a bar where you can sit for a drink or two. Wine list impressive and includes a large number of small Australian producers. They also have a boutique wine list, and red, white, rose served in specially designed glasses. A small selection of Asahi, Samuel Adams, Spearhead and Holgate craft beers. You can also try classic hand-made cocktails like Capsicum Margarita, Cold Toddy, White Negroni and the Snaquiri. Best way to travel there in a group is to hire a minibus from hireabus.com.
They have a separate dessert menu. The most striking dessert here is vegan meringue. It is made from chickpea and cashew syrup and cooked in liquid nitrogen and layered with almond cream and basil. Service is cheerful and professional. Staff is always ready to explain the details of every dish.