5 best places to hold your Christmas party in Melbourne
The holiday season is upon us and with the holidays, comes the pressure of throwing a perfect Christmas party. If you're hosting a cocktail Christmas party, an office Christmas party or an intimate Christmas dinner, we've gathered our top picks of Melbourne's best venues for Christmas parties.
Waterslide Bar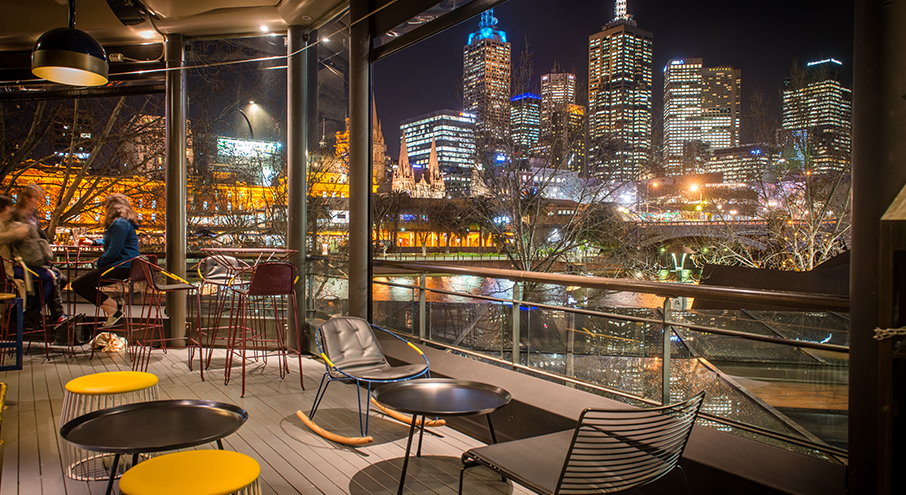 Waterslide Bar is Melbourne's leading riverside venue situated on the South Bank. There are many excellent characteristics including divine cheese selection, rare whiskies and creative cocktails that make the Waterslide Bar a stunning venue in Melbourne. The most important is the spectacular view of Melbourne city skyline and Yarra River. Designers Jimmy Grants and Fonda have done a remarkable job in designing the Bar with a perfect combination of old and new. The dark wooden colour palette and chic decoration keep up with the tone with of Southgate surroundings. Bus hire in Melbourne will make sure your guests get to the South Bank comfortably.
Waterslide Bar has an indoor area and a balcony. The indoor space has private booths. You can book these individual booths for groups of 10 to 30 guests. The Balcony is enclosed and heated. It has a capacity of up to 80 people. You can hire the entire venue for a group of up to 250 people. Waterslide Bar has an inhouse high quality and experienced team that make sure your event is memorable and just the way you like it. They are considerate of your demands, needs and budget. You can host a private function only on Mondays.
Waterslide Bar offers open-ended bar packages and bar tab. It is well known for cheese selection and bar snacks. They also have a special event on new year's eve. Book your passes now and treat your guests with firework view on New Year's Eve. 
The Noble Experiment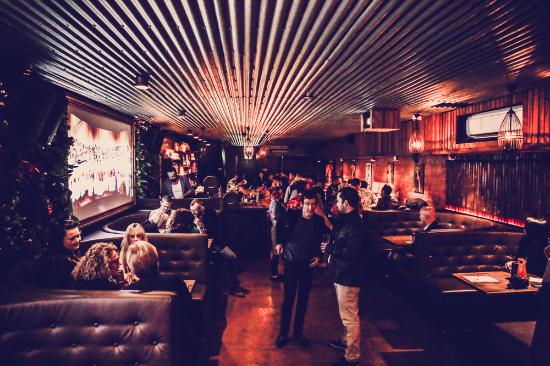 offers one of the best function spaces in Melbourne. It features a restaurant, bar and cocktail lounge. If you just want your guests to have a good time or you want a night of cocktails and dancing, Noble Experiment is the place for you.
The Noble Experiment has three separate event spaces. Underground is for large parties, the restaurant on the ground floor, and mezzanine lounge on the first floor. The Underground Experiment is the most extensive function space here. There is a bar, and they cater for up to 170 people. The setting for sitting is booth style. Facilities include a dance floor, DJ equipment, two projectors, bar, and washroom. On the weekend, you can get a 3 a.m licence. The Restaurant is a combination of lounge and dining. It is ideal for a group of up to 22 people. The Mezzanine lies on a private upstairs level. It is a private party space with a capacity of up to 55 guests. They have all the amenities on the same floor. The Birdcage is a private room. It is most suitable for a small gathering of friends and family of up to 16 people.
On every level, they offer an extensive selection of drinks including cocktails, whisky, beer, wine and cider. The Noble Experiment is well known for degustation chef's menu. They also have an impressive list of sharable dishes. 
Platform 28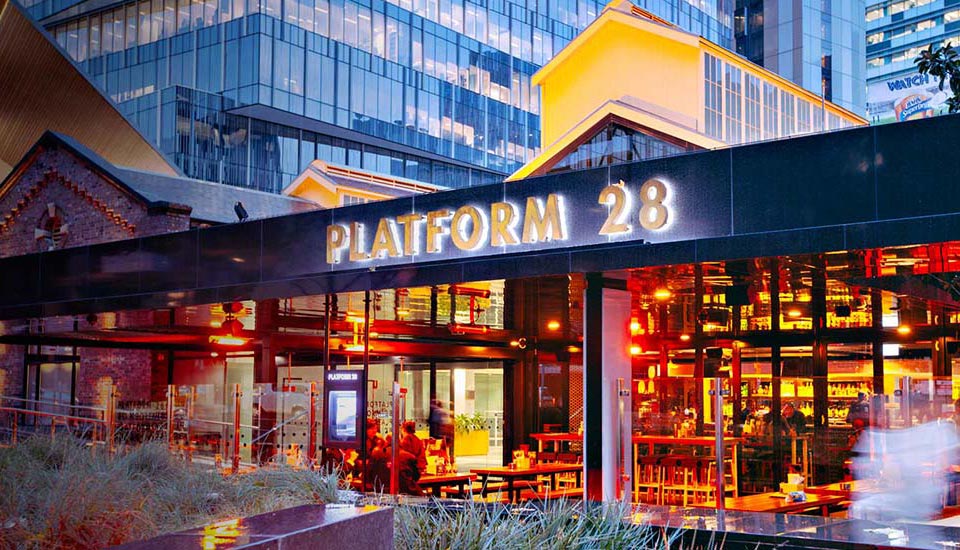 Platform 28 is a one of a kind event space in Melbourne. Historic Street Dockland houses this glamorous restaurant bar. The fact, that earlier it was a railway good shed, gives the place a homely characteristic. Platform 28 offers modern Australian cuisine and an outstanding selection of beer, wine and cocktails. 
Platform 28 is spread across two levels. Both the level has separate indoor and outdoor spaces. Adjustable size of the venue provides you with enough space for the function of any kind and size. Indoor space on the ground floor is Ground Floor Glass Box. It can host a cocktail style party for 80 and seating for 50. Ground Floor Terrace can cater for up to 95 guests. First Floor Lounge is indoor and is ideal for up to 140 guests. First Floor Balcony can accommodate up to 190 guests. The outdoor areas of both the levels boats of the stunning view of Docklands stadium. 
Platform 28 offers various function packages. There are four different finger food packages, three-course menus, beverage package. Canape platter comprises protein, vegetarian, and gluten-free options.
A dazzling combination of old and new, Platform 28 is an outstanding choice for your Christmas party.
The Deck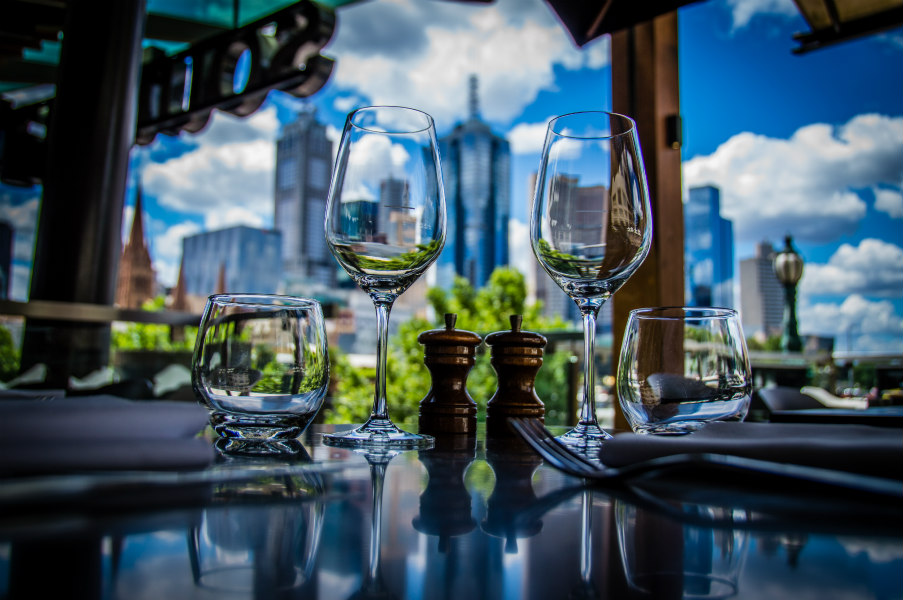 is one of the best places in Melbourne for private dining with a spectacular rooftop bar. If you are looking for a funky place with a fun atmosphere, The Deck is the right place for you. They offer different function spaces that are large and flexible. The Deck caters for intimate dinners and large parties alike. They have an outstanding audiovisual system. 
The Deck divides into three individual spaces that you can hire for your Christmas Party. The Back bar is a private cocktail bar. It is ideal for intimate dinner party and cocktail events. You can host a private dinner of up to 20 people here and a cocktail party of up to 80 guests. The Main Bar is suitable for larger parties with a capacity of 150 people. The highlights at the Main Bar are the long curved bar, dance floor and DJ booth. If you are planning a Christmas party of up to 250 people, you can book The Deck. It is a rooftop bar with a beautiful view of Port Phillip Bay. The Deck offers comprehensive beverage and canape platters. 
The gorgeous venue works as a wow factor. Exceptional drinks and delicious food are like a cherry on top!
River's Edge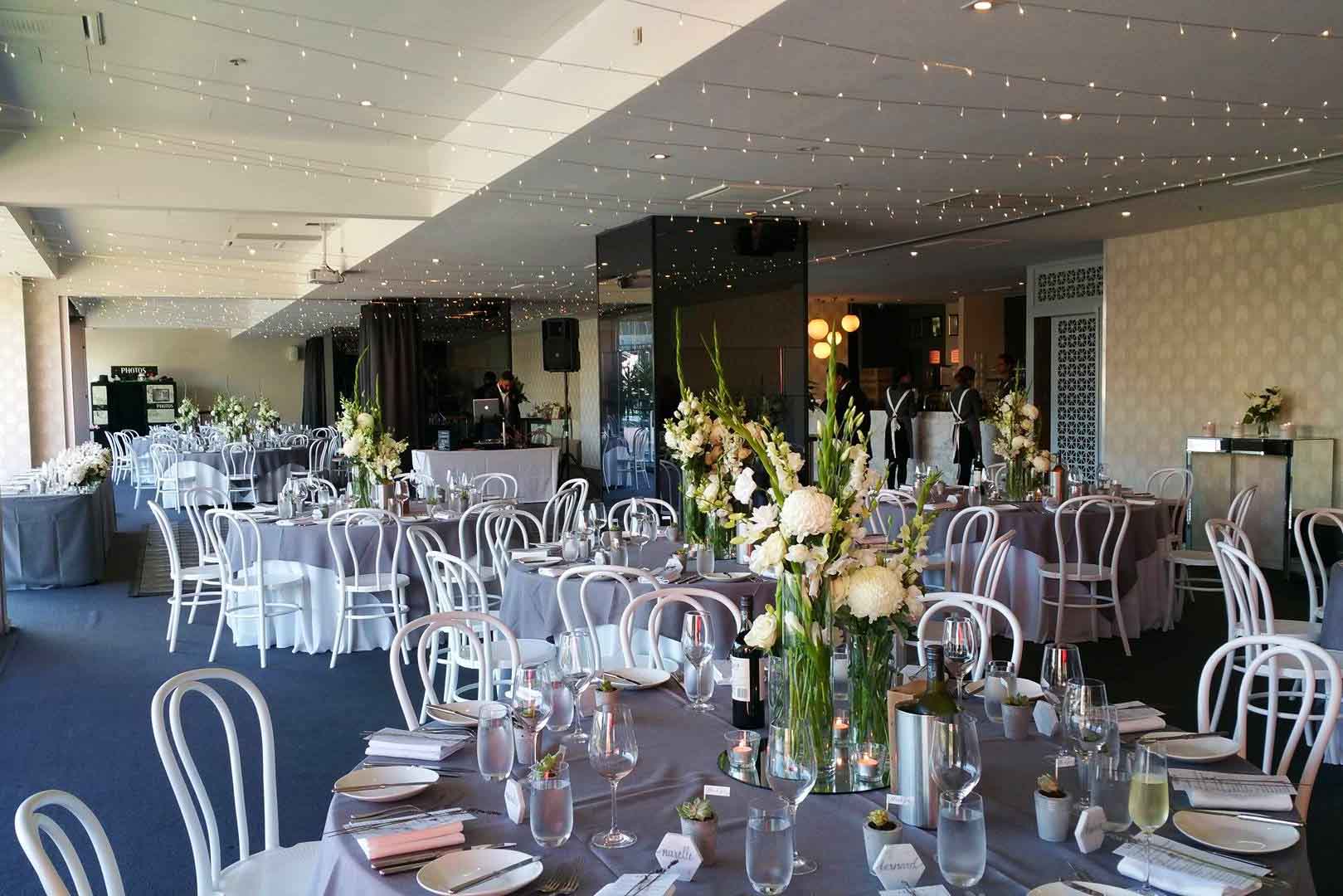 The River's Edge is a spectacular venue promising an unforgettable experience. River's Edge lies in North Wharf precinct of Melbourne's CBD. The location is within walking distance to South Wharf, MCEC, CBD, Crown, Crowne Plaza and Southern Cross Station. The floor to ceiling glass provides an uninterrupted stunning view of Yarra River and Melbourne city skyline. 
River's Edge can host events from 50 to 220 guests with a dance floor and cocktail style event for up to 650 guests. The operable doors can arrange the space to suit the groups as small as 20 guests. The room extends further towards the river with two stunning Juliet balconies. These balconies are excellent for a cocktail and canapés upon arrival. 
It does not matter if you want to host seated Christmas lunches and dinners or just to host a fun lively cocktail party, everything at River's Edge can be tailored depending on your budget, style and liking.