Places to visit near Canberra Airport
Australian War Memorial
Australian War Memorial has put together a world-class museum, a shrine, and an extensive archive of Australian War History. It is only 10 minutes drive away from Canberra Airport. It is an ideal place to experience and understand Australia's wartime. This place provides gripping experience with the sole purpose of commemorating the sacrifices of the Australians who died while serving the nation.
The memorial has many exhibitions, exhibitions tours, events, and learning programs. You can choose one depending on your interest. At 4:55 pm each day Last Post Ceremony takes place which is very moving. Roll of Honour, Middle East Exhibition and image projections are must visit. From their shop, you can take home the most meaningful souvenir of your visit be it posters, models, clothing, books, DVDs, CDs, they have it all.
Mount Ainslie Lookout
Mount Ainslie lookout is the best place to enjoy a panoramic view of Canberra. It is located near the Australian war memorial. Top of the mountain is 842 meters above the sea level. You can walk, cycle or drive up to the viewpoint. The road leading to the lookout has twists and turn and serves some amazing views. You will be amazed to see Canberra's design feature from up there. Keep your camera handy and don't forget to capture National Triangle which is formed by parliament house, civic and military.
Old Bus Depot Market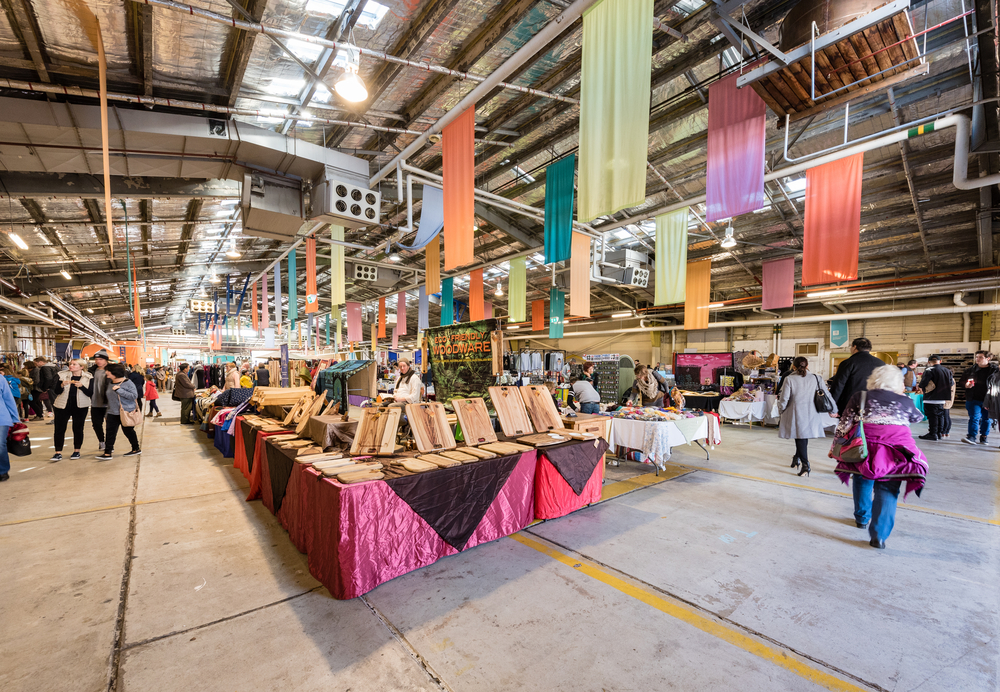 If you happen to be near Canberra Airport on a Sunday Old Bus Depot Market is a must visit. Located in the Former Transport Depot in the Kingston Arts Precinct, 13 minutes drive from Canberra Airport and 8 minutes from Canberra CBD. The market is open every Sunday from 10 am to 4 pm.
You will find over 200 stalls here. Best known for fine handcrafted wares, clothing, jewellery and food. This award-winning market which is known as 'Canberra's Sunday Best' offers an unforgettable experience for your eyes, ears and taste buds.




Museum of Australian Democracy
Museum of Australian democracy at old parliament house is the only museum devoted only for Australian Democracy history. Here you will not only get to know social and political history but also will explore the present and future. The museum has a wide range of exhibitions and events to choose from.
Their Heritage Collection includes highlights, objects, rooms and oral histories and the building itself. This collection provides an insightful experience of the history of Australian democracy. Guided tours, competitions, and other learning activities are designed to keep the visitors entertained and engaged at the same time.
Pialligo Estate
Pialligo Estate is located on the banks of Canberra's Molonglo River. It takes only 5 minutes from Canberra airport to reach Pialligo Estate. It provides the region with the finest produce. Pialligo Estate consists of Olive Groove, Orchard, Market Garden, and Vineyard.
Olive Groove has more than 400 olive trees and produces award-winning extra virgin olive oil. Orchard consists of more than 1000 trees growing fruits like peaches, apples, plums, cherries, pears, figs and pomegranates around the year. Market garden plants different varieties of vegetables, edible flowers and herbs. All these homegrown fresh ingredients are used daily by the chefs.
Pialligo Estate Acadamy arranges food, drinks and lifestyle classes to inspire the quality hospitality practices.
Best day trips from Canberra

Snowy mountains
Snowy mountain is a perfect destination for holidays. Ski resorts are located in the Kosciuszko National Park which is 3-hour drive from Canberra. Other than skiing and snowboarding there is plenty of other activities like snow tubing, snowshoeing, tobogganing, chairlift ride. Snow season is from early June to early October.
Snowy Mountains is also a great place to visit during summer. You can take part in activities they offer which includes mountain biking, horse riding, bushwalking, hiking, cycling, fishing, and watersports. In these regions, there are some great camping sites, luxury resorts, bed and breakfasts for a pleasant stay with your family and friends.
Gundaroo
Gundaroo is a historic village which is 35 km from Canberra. It is a perfect place to soak up the history along with local food and wine. The main attraction here is Grazing. Grazing is an award-winning restaurant located in the Royal Hotel. There is also heritage hotels Crowe's restaurant and Gundaroo Colonial Inn.
The region is also well known for its cellar doors. Local wineries Eden Road Wines and Four Winds Vineyards are worth visiting. On your way back you can stop at Poachers Pantry which is famous for its cheese board and smoked meat platters.
Braidwood
Braidwood is a heritage listed town just about an hour drive away from Canberra. The town is full of antique shops, historic cafes, boutique stores, country pubs and rainforests. Dojo Bakery is favourite amongst the visitors for its homemade pie and sourdough.
At the Braidwood Museum, you can explore the history of the gold rush. The rural streets provide spectacular landscape which is why some iconic movies were shot here. Braidwood hosts a number of festivals and events around the year like major creek festival, farmers market, book fair, and folk music festival.
Batemans Bay
Batemans Bay is an only two-hour drive from Canberra. It is a top choice for locals and tourist for some beach fun. It is popular for watersports such as kayaking, fishing, surfing and swimming. Batemans Bay Snorkelling Tail, Surf Beach, Batemans Bay Cycleway are heaven for water adventure lovers. All these tours depart from the marina.
From Batemans Bay, you can easily access the Eurobodalla region and Clyde River National Park. Here you can explore the beaches, ancient pathways and wildlife. There are many restaurants and bars near Clyde River serving fresh Oysters. Many activities, festivals and events. Check their event calendar and plan accordingly.
Tidbinbilla Nature Reserve
Located only 45 km from the Canberra Tidbinbilla Nature Reserve gives you the best opportunity to get up close and personal with nature. You can spot many native animals such as koalas, kangaroos, possums, and parrots. Be a little attentive while strolling around you might find emus and wallabies.
There are 16 walking trails in Tidbinbilla Nature Reserve. Tidbinbilla Nature Reserve Aboriginal Tour will take you back in time and you can learn about the Aboriginal culture. There is a Nature Discovery Playground near the visitor's centre where children can meet their favourite animals and also take part in fun activities such as a zip line. Don't forget to camp in Naturewise Private Camping Safari.