Restaurant Review - Smith and Daughters
Mo Wyes and Shannon Martnez own Smith and Daughters. This venture is born out of their desire to take vegan cuisine to the next level and prove that it can be exciting and not dull. The inspiration for the menu comes from Italian food, which was first Latin inspired. You can also find a hint of Italian-American and NewYork style influence. Gluten-free options are also available.
The signature dish here is the polenta and oxtail ragu. It is served with polenta and eggplant filled with basil-flavoured ricotta and draped in grilled mozzarella. It will give you the meaty taste. It seems so real that it is hard to accept at first sight that this preparation is vegan and dairy-free. If you are looking for a comforting Italian dish, the meatballs won't disappoint you. The meatballs in Napoli sauce with parmesan and buffalo mozzarella is surprisingly satisfying.
The more you taste the food you will realise it is way better than original non-vegan versions. Their take on traditional lasagne, spanakopita and caponata is exquisite. Make sure to try the beef carpaccio served with grissini, capers, parmesan and horseradish cream. It is hard to believe at first sight that the chicken schnitzel is not real. The must-try dish here is Konjak squid and saffron rice. The set menu is available and is named 'Feast Me'. you can tailor the set menu according to your group size. The drink list is Italianised.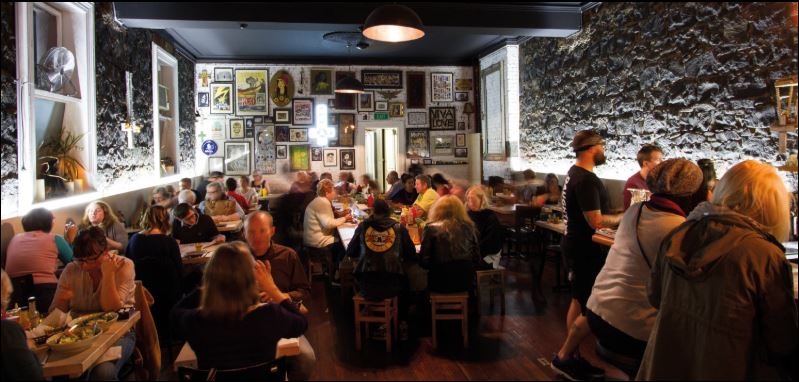 It is astounding to see how a non-vegan chef executes such delicious vegan dishes. Dill pretzels with a wholegrain mustard butter are vegan. The good news is, after all these delicious entrees and the main course they have not forgotten about the desserts. Star dessert is Sabayon. It is a kind of custard dessert which is impossible to make without eggs. But Martinez proves that wrong. Tiramisu made with soy-based whipped cream with house-made savoiardi biscuits soaked in espresso and hint of Strega and amaretto is unmissable.
The restaurant is open Monday to Friday from 6.00 pm to Late. On Saturday it is open from 10.00 am to Late and on Sundays from 10.00 am to 3.00 pm. The prices here are moderate. You can have a decent meal for up to $40. This rock and roll themed restaurant is on Brunswick Street. It is almost 2 km from Melbourne CBD. Best way to travel there in a group is to hire a minibus from hireabus.com.
If you feel that veganism is taking you away from the food of your culture, trust this duo to rebuild the connection.