Restaurant Review - Matilda
Matilda is all about open grills and live flame. It is the most recent addition to Scott Picket list of restaurants. Scott's motto is to keep the atmosphere more relaxed than his other counterparts where people can visit frequently.
The menu is A la carte. It is very difficult to miss the smoky taste on each dish, even on desserts. The flavour of each dish will remind you that the meals are prepared only using open grills and live flame. Not only that, the chef uses different types of woods for each dish. This brings out the best flavours in them.
Most loved specialities include wood-oven salmon roe tartlets with bonito cream. The dish has a perfect balance of heat and richness. Spanner crab, rendered tangy with citrus and served with prawn-buttered flatbread is exquisite. This dish is beautiful and delicate. The highlight of the menu is the whole Macedon duck, smoked over cherry wood and served with an array of flamed vegetables. It is a treat in its rights.
Liverish of the meat, smooth skin with the roasted legs served with pickled cabbage, roasted celeriac, charred orange and leaves will leave you wanting for more. Doughy flatbread with thin black char lines is simplicity at its best. Don't get full on that yet. Keep some room for the delicious Tarte Tatin with smoked vanilla ice cream. The drink list is decent. Wine list mainly includes Australian wines. Cocktails here steals the show.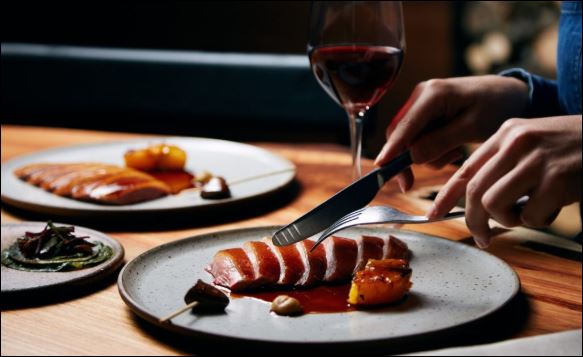 The place is inviting and feels on fire like its open flames. A La Carte and vegetarian-friendly menu encourage guests to come more often. The separate bar downstairs is attractive and friendly. If you are seated at the bar, they will serve you directly across the counter. You can book in advance to host any private events. There is a United Places Botanic Garden right above Matilda to enhance the dining experience. If you are visiting during truffle season, make sure to book one of their annual truffle dinners.
The restaurant is open for lunch and dinner for the whole week. Oscar's Bar is open on Friday and Saturday from 5.30 pm to 11.30 pm. You can book online if you are a group of up to 5. For a group of 6 or more, you will have to contact the restaurant directly. Matilda is in South Yarra. You can reach here by car or train from CBD. It is only 5 km drive away from Melbourne CBD. Best way to travel there in a group is to hire a minibus from hireabus.com.
It is not every day you get to eat food that is cooked only using open grills and live flames. Matilda perfectly carries out this unique concept. Come here for a buzzing meal.